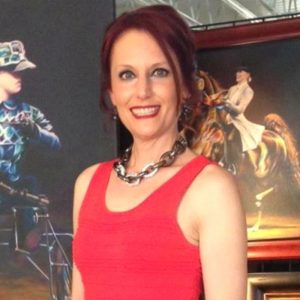 Weekly hunt seat lessons were not enough for a horse-crazy little girl in the north Jersey suburbs, so I began collecting everything to do with horses. As a teen, bad knees spoiled my dreams of riding in the Olympics, then I discovered a local Hackney farm where I learned to drive. An overload of Aquarian creativity led me to study photography at Parsons School of Design, and writing at the New School University, both in New York City.​
"In my "spare time," I attend horse shows, ride Saddle seat and Reining, dance, study and speak French, watch motorsports, dine at ethnic restaurants, smoke cigarillos, and drink copious amounts of tea. Yoga and the Tao Te Ching keep me sane. Well, relatively speaking!"
My photographs were published in several books, and my writing has been published in two countries. Driving Hackneys progressed to training, instructing, studying pedigrees, and breeding. I produced the pony pair who represented America in the 2003 World Pony Pairs Championships in Austria. Showing in carriage & breed classes, I won many championships, and competed at the prestigious National Horse Show at Madison Square Garden.
Upon moving to Kentucky, I proceeded to rack up more adventures: working  at Rood and Riddle Equine Hospital, the Hanoverian Society, the Pyramid Society, Rolex Three Day Event, and several large Saddlebred farms. I enjoyed the opportunity to sit on the Ky. Horse Council Board of Directors, and to instruct Handicapped Carriage Driving for Central Ky. Riding for  Hope at the KY Horse Park.  I loved being assistant trainer to my late husband, third generation Saddlebred trainer, Bruce Jones. Jones was the grandson of well-known trainer O. Wendell Jones, and son of trainer "Tinker" Wendell Jones, who gaited Chief of Greystone.
Finding myself on my own in 2001, I hit the ground running, a "new millennium cowgirl" with a cell phone holstered on my hip! I started traveling extensively to horse shows, gathering horse memorabilia along the way.  Two storage units became excessive for a post- hippie, fashionista girl on the go, so Racing and Riding Collectibles was born.
Currently I am breeding Arabians, training our pure Polish mare, learning all about bosal hackamores, and have started my cowboy boot collection. For more on these and other escapades, visit my Blog and the Horses page, on this site.